Hello and welcome to the second installment of -International Santa Claus - A Study-. I am, of course, your host, Dr. Desmond Morales.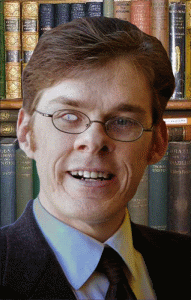 Dr. Desmond Morales
Any world culture that has at least a hint of Christianity within it's citizenry, has some form of the mythical "Santa Claus". Be this creature the familiar jolly, crimson clad, fat man, or a gelatinous representation of death itself, sinner or saint, demon or cuddly man-child, there is always some sort of holiday visitor. Today's variation on the "Santa Claus" is a self imposed re-imagining of the character, Gadaffi Claus.
Libya
- Muammar Gaddafi ruled Libya with an iron fist for over 42 years. He may have been a strict ruler but he also loved attention. Gaddafi did lots of things for attention, bombings, wearing flashy clothes, having female body guards with huge breasts and not least of all, taking the role of "Gaddafi Claus" every Christmas. Now Gaddafi was a Sunni Muslim but he was a cheap whore for any type of attention. Gaddafi watched countless hours of western media, so he knew all about Santa Claus. He wished to capture some of that holiday magic for himself.
Every Christmas Eve, every Libyan TV station has played one television show "Happy Christmas Gaddafi Claus!". Gaddafi, with a shabbily glued-on beard and Santa hat, hosted a rambling 7 hour variety show. It mostly consists of dancing Libyan children and midgets dressed as elves while Gaddafi gives speech after disjointed speech. During the 7 hour period Gaddafi Claus would, on average, consume over 200 candy canes. Between almost every sentence he would interject an awkward "HO HO HO" while talking about how he has been watching everyone all year and he knows who has been naughty and who has been nice. This seemingly innocent story terrified his citizens more than any of his intentional fear mongering ever could.
Suddenly, at the 6 hour mark, there would always be some huge western pop star. Last year it was Janet Jackson. They are paid a large amount of money to come to Libya and sing a Christmas Carol that Gaddafi himself wrote entitled "Gaddafi Claus Is The Most Handsome". Roughly translated, it goes....
Gaddafi Claus, Gaddafi Claus
Joy he brings to his people
Gaddafi Claus, Gaddafi Claus
Magical man and handsome man
Gaddafi Claus, Gaddafi Claus
He watches you always when you sleep
Gaddafi Claus, Gaddafi Claus
Pray to Allah he does not see you rule break
Gaddafi Claus, Gaddafi Claus
He can see what thoughts you have
Gaddafi Claus, Gaddafi Claus
He can enter your home when anytime
David Bowie's 1987 guest appearance on "Happy Christmas Gaddafi Claus!" is hailed as one of Bowie's greatest performances of all time. Gaddafi was seen visibly weeping for the remainder of the show.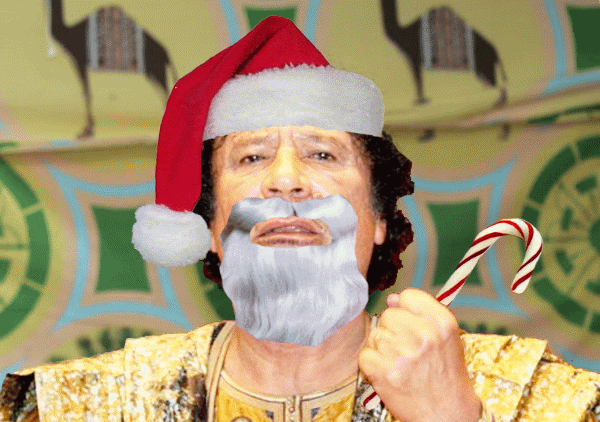 Gaddafi Claus is the most handsome.
A civil war led to Muammar Gaddafi being captured and killed by NLA fighters on October 20th, 2011. This will be the first Christmas in Libya without an episode of "Happy Christmas Gaddafi Claus!" in decades. There are currently millions of Libyans who fear that while Gaddafi is dead, Gaddafi Claus is still alive and watching, plotting his vengeance. Every Libyan knows, that in Gaddafi Claus's eyes, they have all been very, very naughty.