Welcome masturbators, one and all to another installment of Masturbation Enthusiast Monthly. Join us in celebrating our shared pride in our favorite method of stress relief by broadening your masturbatory horizons. Tonight we discuss the enemies of masturbation, induct a new member into the Masturbation Hall of Fame, and as always introduce two new techniques in this month's Diff'rent Strokes.

Guess which one has soiled hands?
There are those among us that do not share our enthusiasm for solo sexual gratification, and in some cases even fear it. These are the enemies of masturbation, and they are gathering power. There has been a movement among the ultra-conservative branches of the Republican party to attack the modern advances in masturbation and take jacking off back to the stone ages. We at Popular Irony believe that someone should stand up for the frightened majority of us that prefer our jerking to be left to our own discretion. And now we speak up for this under-reported story.
There is a document known as the "FAMiLY LEADER"pledge that was signed by former presidential candidate Michele Bachmann and current candidate Rick Santorum that contains language that amounts to banning all forms of pornography. You know, because jerking off destroys families. This makes perfect sense, as both of them look like people who view sex as an unpleasant duty that is required to make babies. Mott Romney is anti masturbation, in keeping with his mormon faith that in the LDS bible denounces masturbation as "wasting jizz". Even Newt Gingritch, a confirmed pussy hound, is against porn. Here are a few quotes from these candidates:
Rick Santorum: "Federal obscenity laws should be vigorously enforced. If elected President, I will appoint an Attorney General who will do so."

Mitt Romney: "It is imperative that we cultivate the promotion of fundamental family values. This can be accomplished with increased parental involvement and enhanced supervision of our children. It includes strict enforcement of our nation's obscenity laws, as well as the promotion of parental software controls that guard our children from Internet pornography."

Newt Gingrich: When former Speaker Gingrich was asked if he will enforce existing laws that make distribution of hard-core adult pornography illegal, he responded: "Yes, I will appoint an Attorney General who will enforce these laws."
So please drop by to their official webpages and let them know you are a proud masturbator. And don't forget to tell them Popular Irony sent you.
http://www.newt.org/contact
http://www.ricksantorum.com/contact
http://mittromney.com/contact-us
http://bachmann.house.gov/Email/
Masturbation Hall of Fame
Now it is time to honor another person who has brought awareness to masturbation by inducting them into the masturbation hall of fame. We celebrate their courage in the face of public humiliation and thank them for helping show the world that we are all normal people, and we all love to manually stimulate our genitalia.
He came for our sins...
Tonight we recognize a man who has long been overdue for praise from our monthly newsletter. This man sacrificed his career for the one-handed passtime we all enjoy, and became the butt of countless jokes on the late night circuit. This man is Paul Reubens, better known as Pee-wee Herman. In 1991 Reubens was arrested in Florida for public exposure in an adult film theater. Although certainly not the first guy to jerk it in a porno theater, the sponsors of his children's television show were somewhat concerned about image problems. He was able to resurface for some film roles over the next decade, but his popularity was badly damaged. For his significant sacrifice in the name of beating off, we honor Paul Reubens.
And now... Diff'rent Strokes!!!
The Splint 'N Spank
: Let's face it- frequent masturbation can lead to discomfort and may even require significant recovery time, depending of the method and vigor used. But many of us have masturbatory appetites that do not wait for our beaten, raw flesh to heal. Use the splint method to give a withered cock the support needed to go for another round. So get back in the saddle and beat it!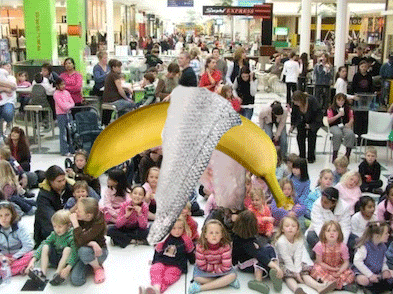 Frisky Fishy: The economic masturbator has produced ingenious masturbation techniques over the years, and this newest entry doesn't disappoint. Simply drape a fish filet (with skin side out) over the shaft, get a grip, and stroke away! This is an excellent and disposable way to satisfy your urges, and in a pinch can be washed and fried up for dinner! It will be our little secret...