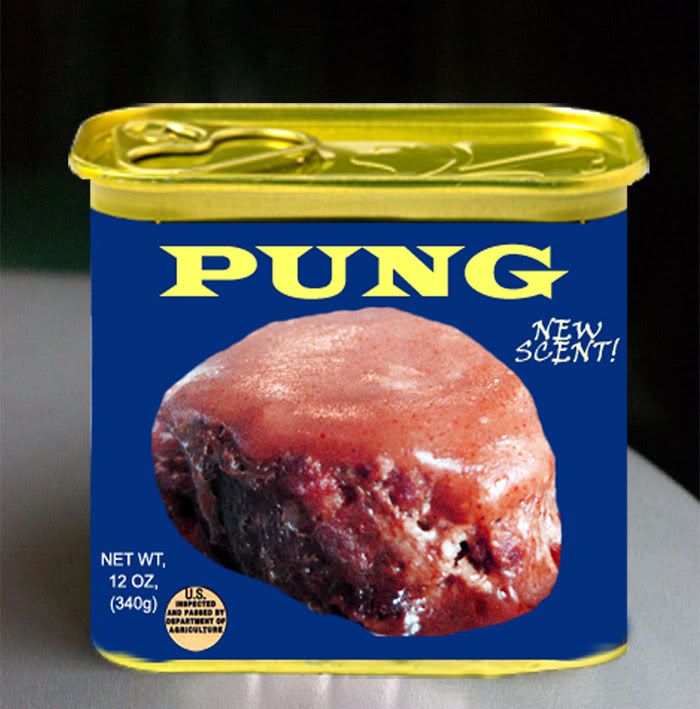 PUNG Now with a new scent!
Are you hungry? Are you sweaty? Do you not really care what goes in and out of your body? Do you spend most of your time seated? Can you open a pull-tab can? Do you like tasty, spreadable meat-like treats? Then PUNG is the luncheon meat-like product for you.
PUNG is an eclectic mixture of many choice animal innards and byproducts. Try it steamed, boiled, fried, deep fried, pit roasted, microwaved or just eat it out of the can like a fat, lazy pig. PUNG makes it's own gravy, just expose it to oxygen and it starts seeping gravy ooze.
There are various health risks associated with eating PUNG including; botulism, the hamtasms, the reeking sweats, swollen teeth, puss nipples, urine tears, PUNG bung and other various distended fistula related illnesses. Do not smoke when enjoying PUNG. Do not refrigerate after opening.
Remember kids! Within every can of PUNG is a hidden plastic GI Joe gun. Don't eat so fast porkums you might devour your only defense against Cobra Commander and his lethal band of terrorists. Thats why it is in there kid. Do you think freedom is just handed out like fucking chinese restaraunt menus? Do you know what Cobra will do to you and your family? You better shape the fuck up kid or you won't last 2 days when the shit goes down Do you want to watch your family getting choke-raped by the Crimson Guard? You'll just sit their licking your lips watching their faces as the life drains from their eyes. Cobra can have you because America doesn't want you! You fucking kids make me sick! YO JOE!
OPEN YOUR PIG HOLE AND SLAM SOME PUNG ON YOUR TONGUE!